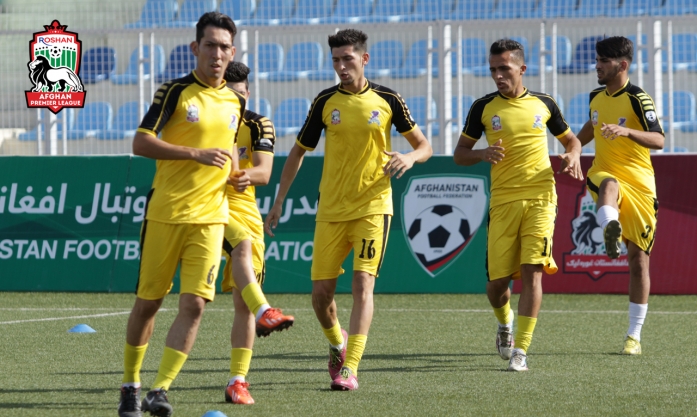 Following an exhilarating Roshan Afghan Premier League (RAPL) 2016 competition, Shaheen Asmayee and De Maiwand Atalan will clash in the finale of Afghanistan's most exciting and biggest football event to date. This match will be kicked-off at 2:00 pm, on September 30, 2016, at the Afghanistan Football Federation (AFF) stadium. 
Eight teams representing all 34 provinces in Afghanistan competed against each other in the group stage of the tournament, with Shaheen Asmayee, Simorgh Alborz, Mawjhai Amu and De Maiwand Atalan advancing to the semi-finals.
Shaheen Asmayee, the Kabul's favorites and representative, advanced to RAPL 2016 semi-finals with one loss and two wins. Later, competing in the semi-finals, Asmayee nailed eight goals against Simorgh Alborz in the first-leg match. In the returning game though, Shaheen was thrashed 3-2, a useless-late triumph by its opponent. With the six goals difference, Shaheen was granted a spot in the RAPL 2016 final. 
Talking in the pre-final press conference on September 28, 2016, Mujtaba Faiz, Asmayee's coach assured of preparations and enthusiasm for the victory against De Maiwand Atalan in the final. "The team will go to ground with 4-4-2 formation," expressed Faiz. Yet, Asmayee is lacking five key players. Kawash Haidari, Samiullah Mohammadi, Zainudin Sharifi, Abdullah Abdali, and Jamil Nasiri are accompanying Afghanistan's national beach soccer team in Vietnam and expected not to be in the line-up of final day.
Da Maiwand Atalan, the southern and south eastern regions' delegates, advanced fortuitous to RAPL 2016 semi-finals. The team successfully cruised 3-2 and 2-0 over Mawjhai Amu in the semi-finals, demonstrating a competitive appearance in this season. 
"We have analyzed and worked on all defects that we had in the previous games," said Wahidullah Wahidi, the coach attending a pre-final press conference. "The players are ready to win the trophy in the final match," he added. 
Don't miss this lively action! Catch the games live on TOLO TV, Lemar TV, Arman FM, and Arakozia FM. It will also be watchable on the RAPL YouTube page (www.youtube.com/afghanpremierleague). To keep up with the important updates you can also follow us on all RAPL social media platforms and RAPL website (www.AfghanPremierLeague.com).