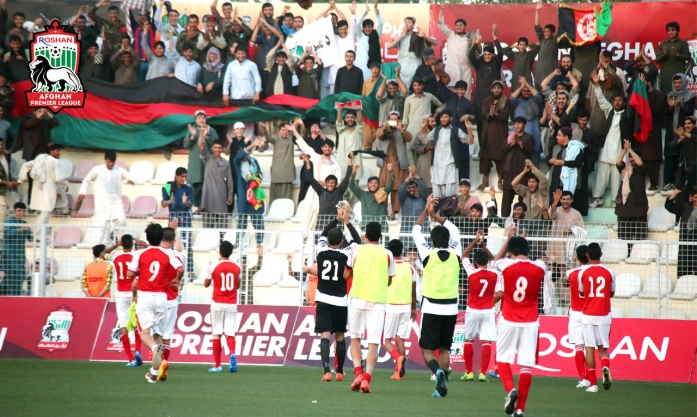 De Maiwand Atalan kicked-off the fifth season of Roshan Afghan Premier League (RAPL) with motivation to claim the championship cup as it was kept out of 2015 RAPL championship after its 4-2 loss via a penalty shootout against De Spinghar Bazan in the semifinals. The team's squad men were trained and supervised by FIFA-licensed coaches. 
Atalan successfully triumphed over Toofan Harirod and De Abasin Sape; however, conceded 1-0 to Shaheen Asmyaee in the group stage. With six accumulated points and leading in aggregated goals, Atalan moved to 2016 RAPL semifinals where they encountered and defeated Mawjhai Amu. The team cruised to a 3-2 victory over Amu in its first-leg semifinal game and later crushed Amu 2-0 in the second-leg, a solid performance letting Atalan approach the finale. 
The 2016 RAPL final game was believed to be one of the toughest competitions in the fifth season for Atalan as it faced the champions, Shaheen Asmayee. Atalan maintained its unbeaten start to the pitch for the first-half but its struggles were dragged off the target. Following an enthralling second-half, Atalan could not resist the opener goal by Shaheen. Though Atalan's Sayeed Ibrahimi netted the equalizer via a penalty-kick soon; later, Shaheen's assault ended to a deserved 2-1 ascendency. 
De Maiwand Atalan conceded 2-1 the 2016 RAPL final to Shaheen Asmayee and came as the runners-up of this year. 
Qayom Sepand, Faiz Faizi, Yar Mohammad Zakarkhail, Manan Azizmi, Saied Ebrahimi, Sayed Baqer Mir Salemi, and Murtaza Jafari were the prominent faces of Atalan in this season. 
Proudly, Yar Mohammad Zakarkhail received the Best Player of Tournament award for De Maiwand Atalan. 
The match and highlights are available on the RAPL YouTube page, (www.youtube.com/afghanpremierleague). Follow the RAPL Instagram for more photos of the fifth season on (afghanpremierleague.official). More information about 2016 RAPL events can be found on (www.afghanpremierleague.com).